"Believing. All it takes is faith and trust …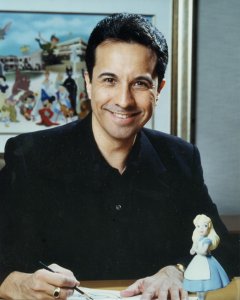 Belief in dreams come true, in a world that can be a happier place through love and kindness is a central Disney theme. The Beast believes someone will love him for who he is underneath his beastly exterior. Snow White has faith that someday her prince will whisk her away to his castle in the clouds. Walt Disney knew just how to wondrous visions of enchantment that come to life right before our eyes and then live on in our hearts. Walt and his artists created vivid personalities and spellbinding storytelling, all through the art of Disney animation.
The enchanting artistry of Snow White and Seven Dwarfs, Beauty and Beast, Cinderella and many other Disney animated films is captured in the Walt Disney Classic Collection. Using the same exacting principles of classic filmmaking, our goal is to create elusive "illusion of life" that defines the magic of Disney animation. Each porcelain sculpture in the Walt Disney Classic Collection is handcrafted to convey the magic of our favorite characters and treasured moments.
Whether this is your first experience of the Walt Disney Classic Collection or you have been with since its inception in 1992… or anything between… we strive to make you feel more connected to the entire world of Disney by upholding the standards of imagination and excellence established by Walt Disney himself… and thereby make the Walt Disney Classics Collection truly a dream come true.
And may you always believe in a world of dreams come true."
David Pacheco
Walt Disney Classics Collection
Creative Director

Walt Disney Classics Collections
The Artistry of the Walt Disney Classic Collection
"It starts with a dream. A dream of discovering, in three-dimensional porcelain, the enchanting essence of what makes a Disney moment so magical, a Disney character so unforgettable.
The starting point for the artists of the Walt Disney Classics Collection is an animated film dreamed up by Walt Disney and his artists or the artists who carry on his legacy. From the many moments that make the magic, one is chosen that defines an endearing character or makes the story even more spellbinding. Disney artists then refer to animation drawings, model sheets, and other production resources created during production of the film to accurately sketch every angle of the character pose for sculpting…and to assure complete authenticity to a film's artistry and spirit.
Using the final drawing—which goes through many revisions before approval—the sculptor shapes the clay. Once approved, the clay sculpt is cut into pieces and a plaster mold is created for each piece. Liquid clay called "slip" is poured into the molds and partially air dried into "greenware" pieces. The reassembled greenware is fired to produce "glazed whiteware," which is then painted with original colors from the film and fired again.
Finally, in a uniquely Disney touch called "plussing," some sculpted pieces are enhanced with metal, crystal or other special materials. This extra "touch of magic" further defines the character and captures the film moment."—Walt Disney Classics Collection
As you explore the Walt Disney Classics Collection, look closely at the fine details and craftsmanship of each piece. For each sculpture is the result of the skill and artistry of some of the most innovative and exquisite porcelain making in the world. So the process that starts with a dream, ends with a dream-come-true that you can hold in your hand…and treasure happily ever after.